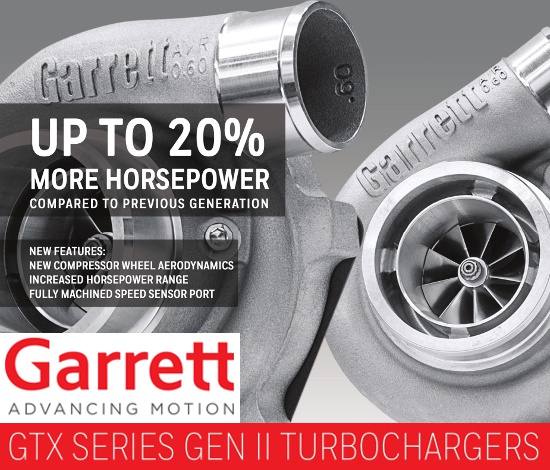 ALL NEW GEN II GTX SERIES
TURBOCHARGERS
Garrett GEN2 GTX Highlights
Advanced aerodynamics GEN2 GTX compressor wheel
Supports up to 20% more horsepower
Reverse rotation (spins counterclockwise) options
1,000HP GT35 frame model
Available in small frame GTX28 to large frame 2850HP GTX55 models


Introducing the Garrett GEN2 GTX Series turbochargers. The GEN2 line includes an advanced aero design compressor wheel offering up to 20% more horsepower than the previous version.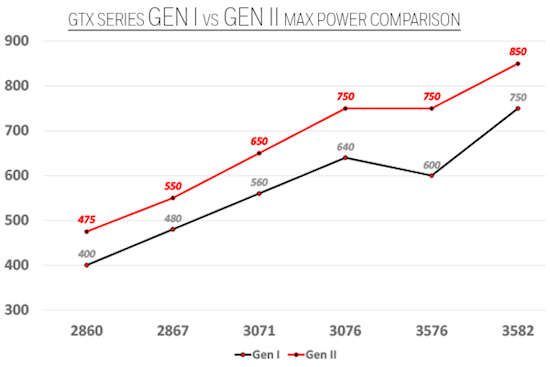 Garrett GEN2 GTX Reverse Rotation

The Garrett GEN2 GTX Series is available in reverse rotation (spins counterclockwise) models. Reverse rotation offers new housing layout options for applications where a standard turbocharger (spins clockwise) does not provide sufficient clearance. Upgrading an OEM counterclockwise spinning turbo has never been easier with the Garrett GEN2 GTX Reverse Rotation series!


Achieve an equal flow and symmetrical layout twin turbocharger setup with matching standard rotation and reverse rotation models!



Garrett GTX3584RS


The Garrett GTX3584RS offers 1,000HP within a GT35 frame turbo. The Garrett GTX3584RS combines a GEN2 compressor wheel and ultra high flow "RS" turbine wheel to achieve astronomical results within compact design housings. NOTE: The "RS" turbine wheel is exclusive to the GTX3584RS model.

Garrett GEN2 GTX Series Models

The Garrett GEN2 series is available from a small frame GEN2 GTX2860R (475HP) up to a large frame GTX5544R (2,850HP). Complete Garrett GEN2 GTX line including reverse rotation models:



Garrett GEN2 GTX28, GTX30, & GTX35

Standard Rotation Models

(Ball Bearing)
Turbo
Model
Comp.
Wheel
Inducer
(mm)
Comp.
Wheel
Exducer
(mm)
Comp.
Wheel
Trim
Turbine
Wheel
Inducer
(mm)
Turbine
Wheel
Exducer
(mm)
Turbine
Wheel
Trim
Flow
Capacity
GEN2
GTX2860R
46
60
58
54
47
76
475
HP
GEN2
GTX2867R
50
67
55
54
47
76
550
HP
GEN2
GTX3071R
54
71
58
60
55
84
650
HP
GEN2
GTX3076R
58
76
58
60
55
84
750
HP
GEN2
GTX3576R
58
76
58
68
62
84
750
HP
GEN2
GTX3582R
66
82
64
68
62
84
850
HP
Garrett GEN2 GTX30 & GTX35
Reverse Rotation Models
(Ball Bearing)
Turbo
Model
Comp.
Wheel
Inducer
(mm)
Comp.
Wheel
Exducer
(mm)
Comp.
Wheel
Trim
Turbine
Wheel
Inducer
(mm)
Turbine
Wheel
Exducer
(mm)
Turbine
Wheel
Trim
Flow
Capacity
GEN2 RR
GTX3071R
54
71
58
60
55
84
650
HP
GEN2 RR
GTX3076R
58
76
58
60
55
84
750
HP
GEN2 RR
GTX3576R
58
76
58
68
62
84
750
HP
GEN2 RR
GTX3582R
66
82
64
68
62
84
850
HP
Garrett GTX3584RS Models
(Ball Bearing)
Turbo
Model
Comp.
Wheel
Inducer
(mm)
Comp.
Wheel
Exducer
(mm)
Comp.
Wheel
Trim
Turbine
Wheel
Inducer
(mm)
Turbine
Wheel
Exducer
(mm)
Turbine
Wheel
Trim
Flow
Capacity
GTX3584RS
Supercore
67
84
64
68
62
84
1,000
HP
GTX3584RS
Supercore
67
84
64
68
62
84
1,000
HP
GTX3584RS
w/ Housing
67
84
64
68
62
84
1,000
HP
Garrett GEN2 GTX47 & GTX50 Series
76mm, 80mm, & 88mm Models
(Ball Bearing)
Garrett Large Frame &
Class Legal GEN2 GTX5533R & GTX5544R
85mm, 88m, 91mm, 94mm, 98mm, 102mm & 106mm Models
(Ball Bearing)
GARRETT GEN2 GTX MODELS AVAILABLE NOW...
CLICK HERE FOR MORE INFO