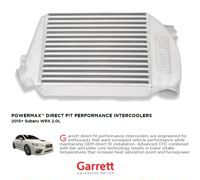 G

arrett direct fit performance intercoolers are engineered for enthusiasts that want increased vehicle performance while maintaining OEM direct fit installation. Advanced CFD combined with bar and plate core technology results in lower intake temperatures that increase heat saturation point and horsepower.

Just look at the numbers*!
115% increase in core size
30 degree drop in intake manifold temparature
25 HP (19 kW) increase
15 lb-ft (20 N-m) of torque increase
4 dyno pulls heat saturation point increase
* Numbers will differ for each individual intercooler.
Subaru
WRX
2015+
2.0L FA20F
13" x 4" x 10.2" (330mm x 102mm x 259mm)
891185-6001
Ford
Focus ST
2012+
2.0L
36.25" x 6.55" x 7.8" (921mm x 166mm x 198mm)
880736-6001
Ford
F150
2015+
3.5L/2.7L Ecoboost
21" x 5.32" x 9.43" - core only (533mm x 135mm x 240mm)
870702-6001
BMW
M3/M4 (F80\ F82\ F83)
2015+
3.0L
7.2" x 9.8" x 3.6" (183mm x 249mm x 92mm)
888883-6001 888883-6002
Honda
Civic
2016+
1.5L/SI
27.5" x 3.5" x 6.2" (698.5mm x 88.9mm x 157.5mm)
893516-6001